ORICO Hub 10 in1 Multi Functional Type-C Hub With HDMI 4K VGA 3 USB Port PD Type-c 100W SD&TF 3.5mm Audio Gigabit Ethernet Type C ORICO-PW11-10P-GY-EP
[single_product_video_button]
ঢাকার বাহীরের অর্ডারের ক্ষেত্রে ৩০০ টাকা 01888 719 119 বিকাশ মার্চেন্ট নাম্বারে Make Payment করে অর্ডার নিশ্চিত করুন ।অন্যথায় অর্ডার ক্যান্সেল হয়ে যাবে ।
Orico Official Shop Bangladesh . 3 Months replacement warranty 
Buy ORICO Hub 10 in1 Multi Functional Type-C Hub With HDMI 4K VGA 3 USB Port PD 100W SD&TF 3.5mm Audio Gigabit Ethernet Type C From gadgetz.com.bd. Official Orico Online Shop In Bangladesh .
ORICO Hub 10in1 Key Features:
The intelligent USB C dock perfectly combine all functions you need.
It extends one Type C port to 4K@30Hz HDMI port*1, 1080P@60Hz VGA port*1, USB 3.0 port*3, Gigabit Ethernet, SD/TF(Micro SD) Card Reader, 3.5mm Audio Jack,
USB-C power delivery charging port*1(data transfer not supported).
It can perfectly settle the problem of only one USB C port of your laptop.
Low Resistance ,High Cooling Speed
4k For better Viewing support 4k/60Hz , 4k/30Hz,1080/120Hz
three USB 3.0 Ports transmission speed up to 420MB/s.
1000Mbps Playing Games with a super fast network and working with a stable net connection
Charging while Playing : PD100w Charges your Laptop and helps you build a smooth workflow
Zero Latency Transfer and read
3.5mm Supports Hi-Fi Audio Output and enjoy your own Music world
ORICO Hub 10in1 Specifications :
Product Model :

ORICO-PW11-10P-GY-EP

Material Aluminum Alloy + ABS

Color Gray

Interface 10

Input Type-C

Outputs USB-A*3 (5Gbps) 3.5mm audio*1 SD&TF*1 HDMI*1 (4K@30Hz) VGA*1 Gigabit LAN port*1 PD100W*1

Indicator Light Blue LED Light

Cable Length 0.2M

Supported System Windows/Linux/Mac OS/Android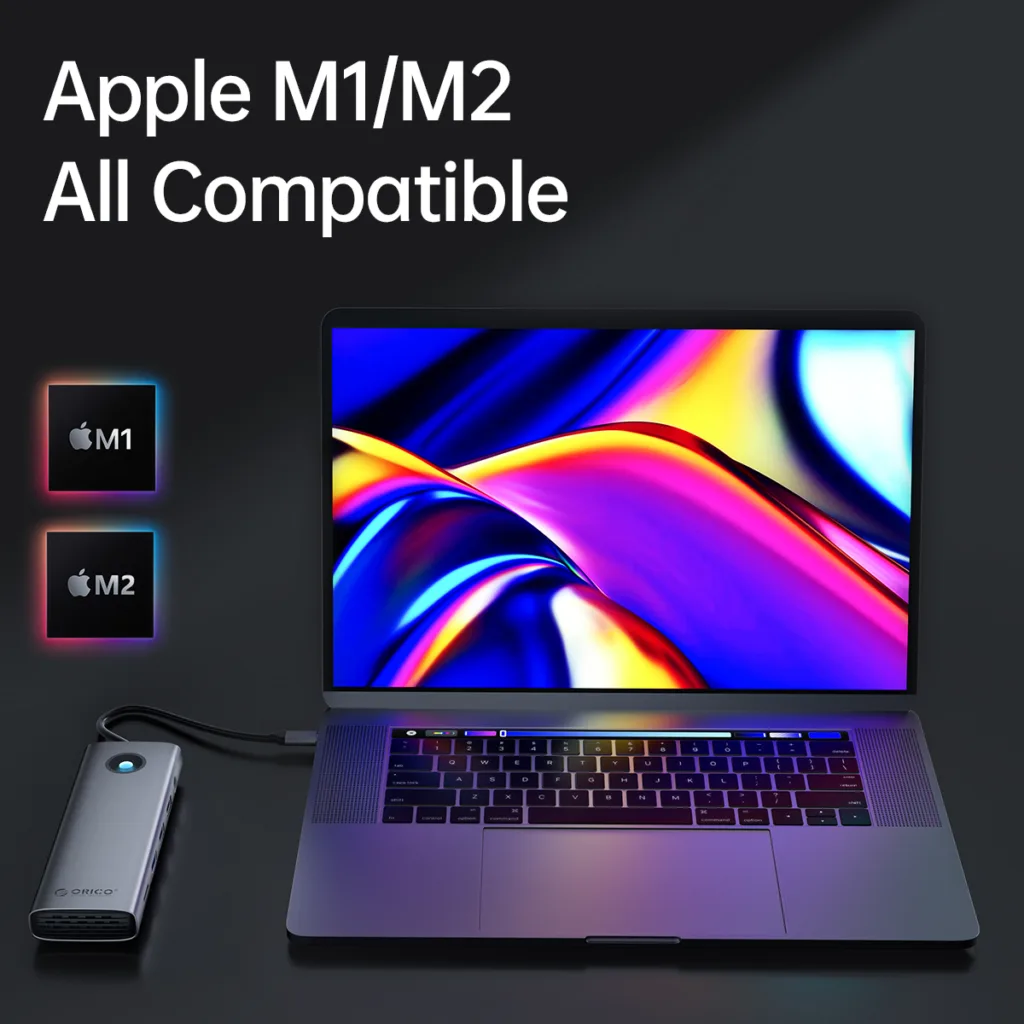 Vestibulum curae torquent diam diam commodo parturient penatibus nunc dui adipiscing convallis bulum parturient suspendisse parturient a.Parturient in parturient scelerisque nibh lectus quam a natoque adipiscing a vestibulum hendrerit et pharetra fames nunc natoque dui.
ADIPISCING CONVALLIS BULUM
Vestibulum penatibus nunc dui adipiscing convallis bulum parturient suspendisse.
Abitur parturient praesent lectus quam a natoque adipiscing a vestibulum hendre.
Diam parturient dictumst parturient scelerisque nibh lectus.
Scelerisque adipiscing bibendum sem vestibulum et in a a a purus lectus faucibus lobortis tincidunt purus lectus nisl class eros.Condimentum a et ullamcorper dictumst mus et tristique elementum nam inceptos hac parturient scelerisque vestibulum amet elit ut volutpat.