[single_product_video_button]
ঢাকার বাহীরের অর্ডারের ক্ষেত্রে ৩০০ টাকা 01888 719 119 বিকাশ মার্চেন্ট নাম্বারে Make Payment করে অর্ডার নিশ্চিত করুন ।অন্যথায় অর্ডার ক্যান্সেল হয়ে যাবে ।
Ugreen Car Charger PD 30W + SCP 22.5W usb type A + C Dual – Port Car Charger 40858 CD130
Ugreen Car Charger PD 30W 40858  Features :
Max 30W Car Charger Fast Charging: the USB C Car Charger Fast Charging is equipped with a fast charging 3.0 port (USB A) and power delivery 3.0 port (USB C), which can meet the needs of multiple devices charging at the same time. 30 minutes can give the iphone14 a full 60% charge, 4X faster than ordinary chargers.

UL 2089 Compliance Report and FCC Certification: this car charger USB C is certified by international agencies, with built-in safety chip and multiple protection systems, intelligent matching of current and output power, provide over-voltage, over-current, over-temperature and short-circuit protection to keep you and your devices safe during the charging process, providing a peace of mind and a comfortable journey.

Universal Compatibility: this PD car charger supports multiple fast-charging protocols, like PD3.0/QC3.0/FCP/SCP/AFC, and is compatible with almost all phones, like iPhone 14/14 Pro Max/13 Pro/13/12/11/XS/XR/X/SE 2022; Galaxy S23/S22/S22 Ultra/S21/S20, Google Pixel 6 Pro/6/5/4a, and iPad Air 5/4/Pro 2021/2020. This car charger can also charge other devices such as cameras, PS, power banks, driving recorders, etc. Note: It only supports 25W PPS, but DOESN'T support 45W PPS.

60W PD fast charging USB C Cable Thoughtfully Equipped: Unlike most USB C car chargers, our car phone charger is equipped with a 3FT 60W USB C cable, which can be used for all C-port charging devices, not only for charging car recorders, cell phones, tablets, laptops in the car, but also for other devices at home.

Compact and Stylish but Solid: the dual 30W car charger is made of metal aluminum, with a sleek and stylish texture and helps dissipate heat when charging for a longer life. the USB port is equipped with an LED light, making it easy to figure out where the car charger is when it's dark. The compact size (1*1*2.1inch) and light weight (20g) are equipped with a spring design that locks the charging hole securely on bumpy roads for stable charging.
Ugreen Car Charger PD 30W 40858 Specifications : 
Brand : Ugreen
Model : Ugreen Car Charger PD 30W 40858
Input: DC12-24V=4A
USB-C Output: 5V=3A 9V=3A 12V=2.5A 5V=3A 9V=3A 12V=2.5A
USB-A Output: 5V=3A 5V=4.5A 4.5V=5A 9V=3A 12V=2.5A
 Support QC3.0/PD3.0/PPS/FCP/AFC/BC1.2/DCP/APPLE 5V2.4A/Samsung5V2A
Total Output: 30W Max
 Aluminum alloy Cas
Ugreen Car Charger PD 30W 40858 Warranty : 3 Months Warranty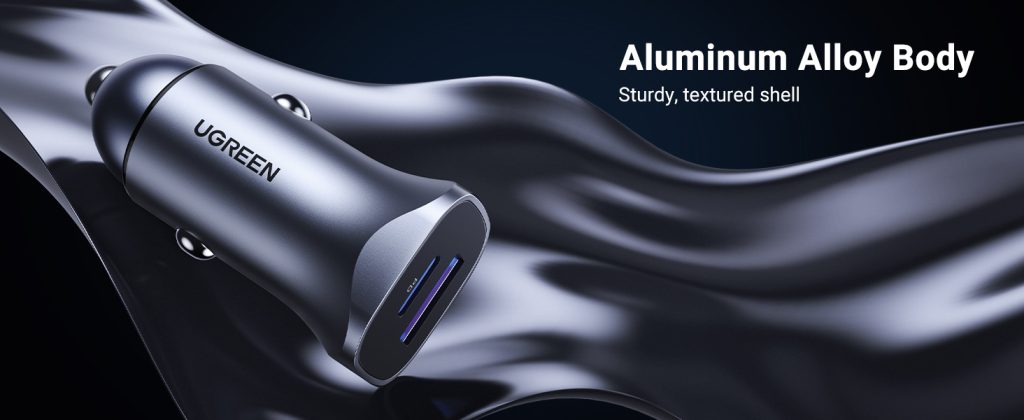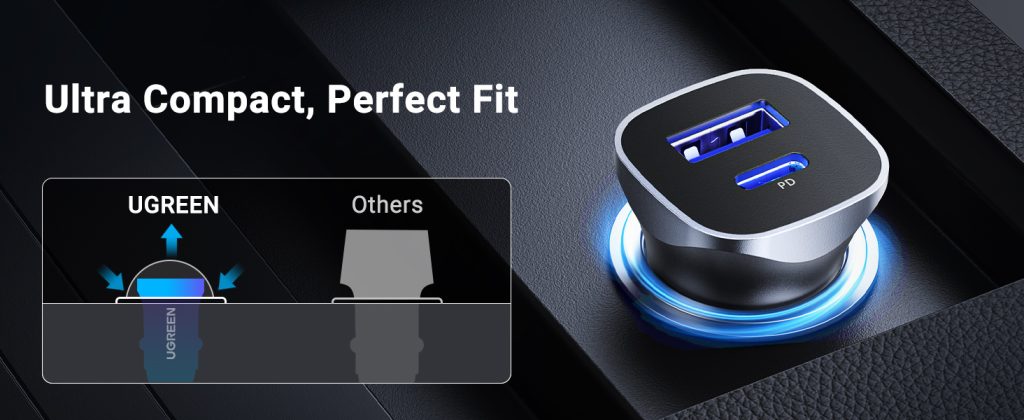 Vestibulum curae torquent diam diam commodo parturient penatibus nunc dui adipiscing convallis bulum parturient suspendisse parturient a.Parturient in parturient scelerisque nibh lectus quam a natoque adipiscing a vestibulum hendrerit et pharetra fames nunc natoque dui.
ADIPISCING CONVALLIS BULUM
Vestibulum penatibus nunc dui adipiscing convallis bulum parturient suspendisse.
Abitur parturient praesent lectus quam a natoque adipiscing a vestibulum hendre.
Diam parturient dictumst parturient scelerisque nibh lectus.
Scelerisque adipiscing bibendum sem vestibulum et in a a a purus lectus faucibus lobortis tincidunt purus lectus nisl class eros.Condimentum a et ullamcorper dictumst mus et tristique elementum nam inceptos hac parturient scelerisque vestibulum amet elit ut volutpat.