[single_product_video_button]
ঢাকার বাহীরের অর্ডারের ক্ষেত্রে ৩০০ টাকা 01888 719 119 বিকাশ মার্চেন্ট নাম্বারে Make Payment করে অর্ডার নিশ্চিত করুন ।অন্যথায় অর্ডার ক্যান্সেল হয়ে যাবে ।
UGREEN Card Reader 2 in 1 USB-C USB-A SD TF Memory Card Reader OTG Adapter 3.1Gen 50706
UGREEN Card Reader 50706  Features :
Super Fast Data Transfer: This SD/TF card reader support super faster data transfer up to 5Gbps through USB 3.0 interface -10X faster than USB 2.0, transfer HD movies, or files in just seconds
More connectivity: Equipped with USB 3.0 Type A and Type C plugs, the card reader can be used for free data exchange between memory cards and USB-A / USB-C / thunderbolt 3-capable PCs, laptops, mobile phones and tablets with OTG functions. With built-in USB 3.0 chips, the USB card reader delivers high-speed transfer rates of up to 5Gbps and allows HD movie in 1GB to transfer only seconds
Simultaneously access to SD and TF card: Both card slots can be used simultaneously especially when connected to a PC/laptop, you will get more efficient data transfer. Supports all popular memory cards including SD, SDHC, SDXC, RS-MMC, MMC, TF, Micro SDHC, Micro SDXC and UHS-I cards in large capacity up to 512G
Plug & Play: No driver installation required for Windows, for Mac OS, for Linux. Powered via USB or USB C plug, therefore no additional power needed. With overcurrent, overvoltage and short-circuit protection, the USB card reader secures high safety for all connected devices and memory cards
UGREEN Card Reader 50706 Universal Compatibility(Partial List):
USB C Laptop: for Macbook, for MacBook Pro, for HUAWEI Matebook / Matebook X / Matebook, for Asus ASUS ROG GX501, ZenPad S 8.0, Zenbook3, ZenPad 3S, for Lenovo Air 12, YOGA 5 Pro / Miix 5/920, for Chromebook Pixel, for Samsung Galaxy Book 12 Inch / Tab S3, for Dell Alienware 13/17, for MSI GS63 Gaming Notebook, etc.
OTG USB C Smartphone / Tablet: for Samsung S10, S10 Plus, S9, S9 Plus, S8, S8 Plus, Note8, Galaxy A3 / A5 2017, for Huawei P10, P10 Plus, Mate9 / 10, Honor8 / 9, for Google Pixel / Pixel XL, for HTC 10x, for LG V20 / V30 / LG G5 / G6 / LG Nexus 5X / 6P, for Oneplus 7 Pro/7 /2 /3 / 3t / 5, for Lumia 950 / 9520XL, for Moto Z / Moto Z2 Play, for Sony Xperia XZ / Xperia XZ Premium and other OTG enabled USB C phones / tablets
All USB A devices: Plug and Play for computers and laptops with USB 3.0 connection under the following operating system such as for Windows, for Mac OS and for Linux
UGREEN Card Reader 50706 Specification:
Model: 50706
SD Slot: SD, SDHC, SDXC, RS-MMC, MMC
TF Slot: TF, Micro SDHC, Micro SDXC
Support Capacity: Up to 512GB
Size: 73.7mm x 21.5m x 11.6mm
EAN/UPC: 6957303857067
Note:
USB A and USB C plug can not be used identically.
For Samsung S9/S9 Plus/S8/S8 Plus/Note 8/Google Pixel 2/XL/LG G5/V20/V30/Nexus 5X6P, the memory card file format should be FAT32/EXFAT, NTFS is not supported.
Package included:
1 x USB-C/USB-A Card Reader
1 x English and Chinese User Manual
Other items not included
| | |
| --- | --- |
| Brand | Ugreen |
| Retail Packaging | Paper Box |
| User Manual (Language) | English and Chinese |
| Gross Weight | 0.067kg |
| Volume Weight | 0.072kg |
| Package Length | 16.000cm |
| Package Width | 8.000cm |
| Package Height | 2.500cm |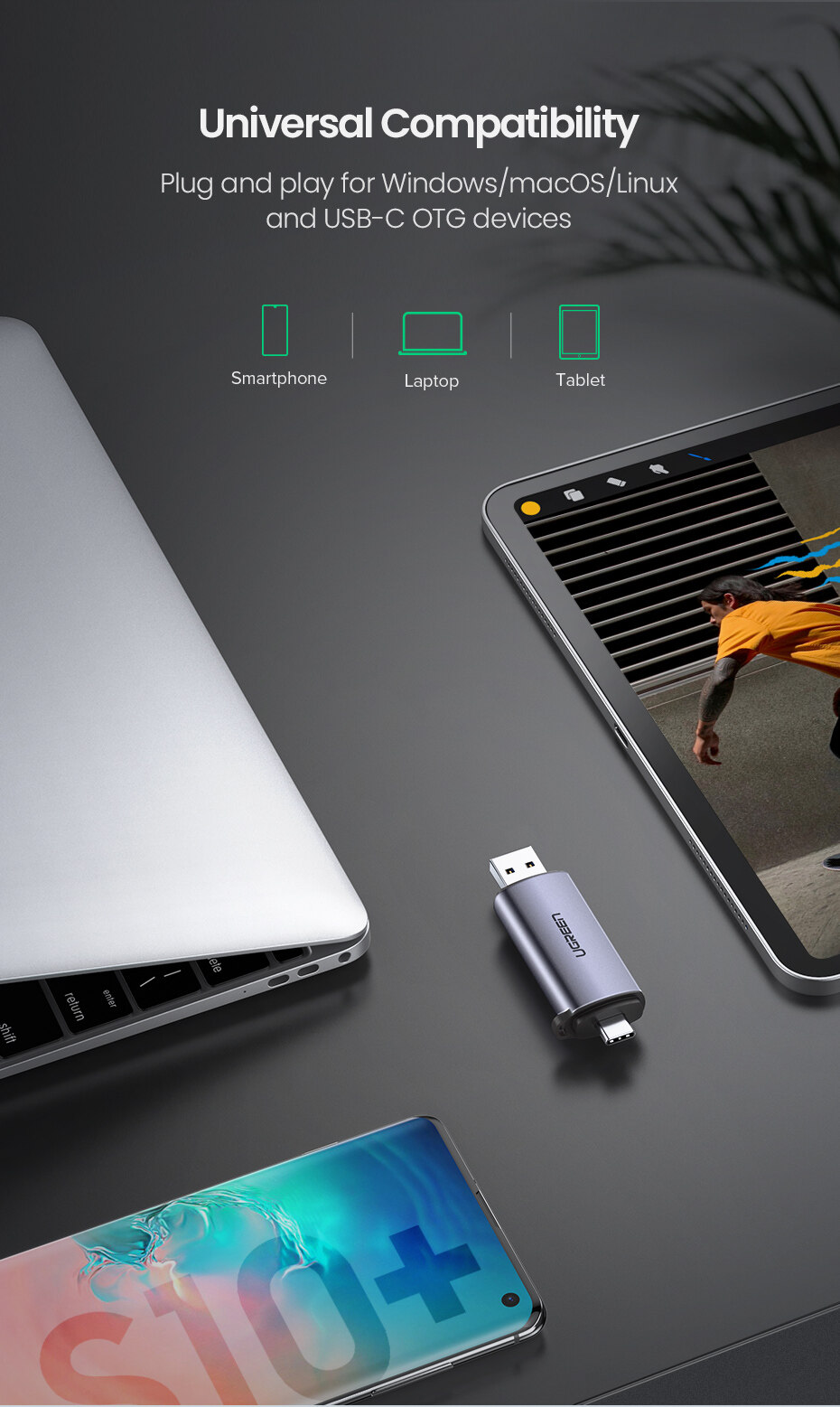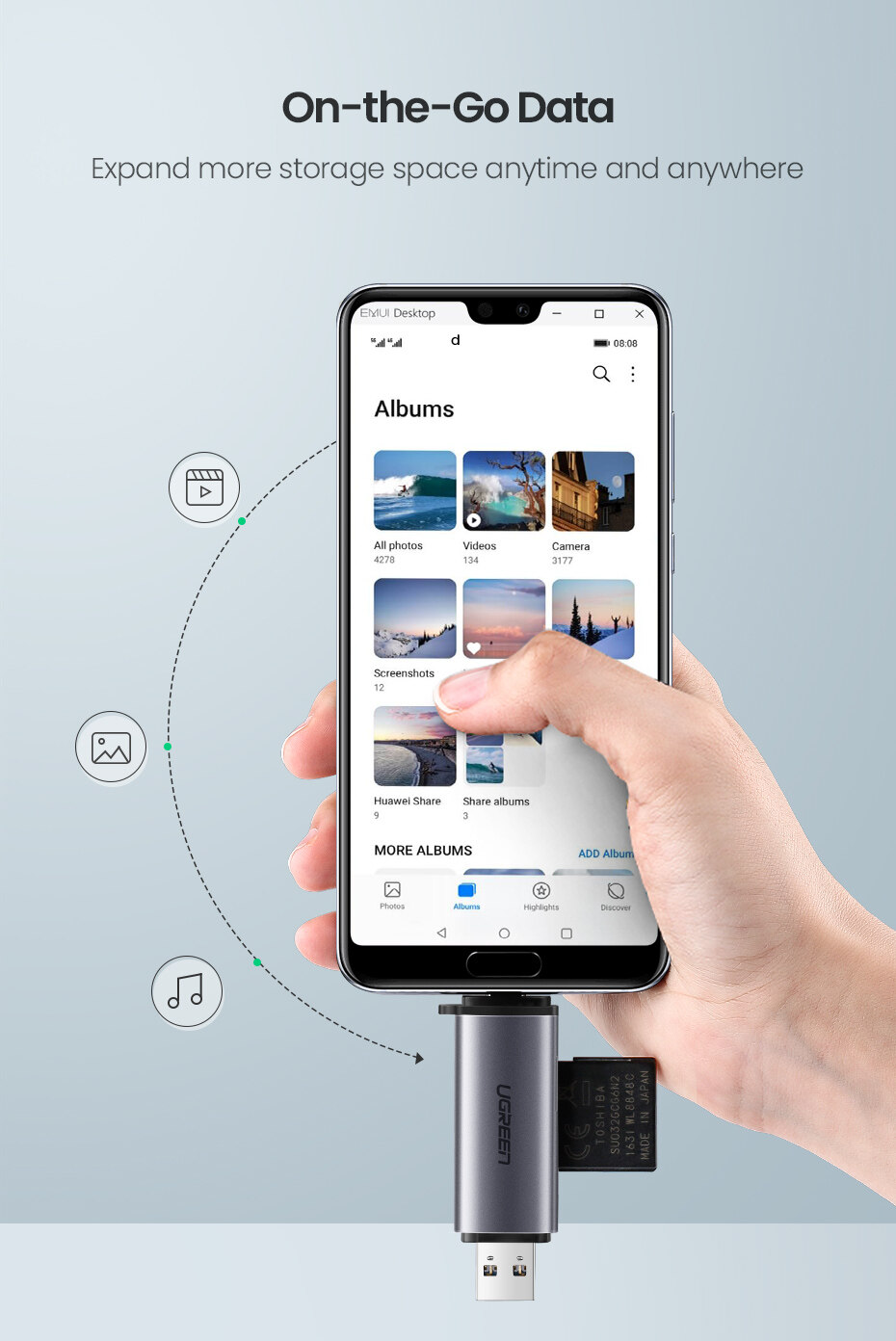 Vestibulum curae torquent diam diam commodo parturient penatibus nunc dui adipiscing convallis bulum parturient suspendisse parturient a.Parturient in parturient scelerisque nibh lectus quam a natoque adipiscing a vestibulum hendrerit et pharetra fames nunc natoque dui.
ADIPISCING CONVALLIS BULUM
Vestibulum penatibus nunc dui adipiscing convallis bulum parturient suspendisse.
Abitur parturient praesent lectus quam a natoque adipiscing a vestibulum hendre.
Diam parturient dictumst parturient scelerisque nibh lectus.
Scelerisque adipiscing bibendum sem vestibulum et in a a a purus lectus faucibus lobortis tincidunt purus lectus nisl class eros.Condimentum a et ullamcorper dictumst mus et tristique elementum nam inceptos hac parturient scelerisque vestibulum amet elit ut volutpat.