Ugreen HUB 9in1 USB Type C multifunctional 2x USB 3.2 Gen 1 1x USB 2.0 2x HDMI 4K 60Hz SD and TF SB Type C PD 100W Ethernet RJ45 gray 90119 CM490
[single_product_video_button]
ঢাকার বাহীরের অর্ডারের ক্ষেত্রে ৩০০ টাকা 01888 719 119 বিকাশ মার্চেন্ট নাম্বারে Make Payment করে অর্ডার নিশ্চিত করুন ।অন্যথায় অর্ডার ক্যান্সেল হয়ে যাবে ।
Ugreen HUB 9in1 USB Type C multifunctional 2x USB 3.2 Gen 1 1x USB 2.0 2x HDMI 4K 60Hz SD and TF SB Type C PD 100W Ethernet RJ45 gray 90119 CM490
The Ugreen gadget is made of aluminum. This means that it is very resistant to various types of mechanical damage. However, that's not all. HUB also has a number of additional protections, they protect the equipment and devices connected to it against unexpected situations, such as short circuit, overload or overvoltage. It's a guarantee that even if you forget to unplug it, nothing bad will happen.
Ugreen HUB 9in1 USB Type C multifunctional 90119  Main Features  :
9 In 1 USB C Hub: UGREEN USB C 4k monitor hub for laptop perfectly combines the function of the USB c hub and dual-monitor docking station, compares with the traditional bulky docking station. 9-IN-1 docking station for laptop powerfully meets your multiple expansion needs: two 4K HDMI video outputs, a 60w PD charging port, two USB 3.0 ports, a USB 2.0 ports, an Ethernet port, and SD/TF card reader slots.
Crystal 4K Video: This USB C to dual HDMI hub allows you to display the content of your laptop to 2 monitors which maximum output up to 3840*2160@30hz resolution. (Single-use HDMI 1 can up to 4K@60Hz under DP1.4 source) Attention: It ONLY supports MIRROR MODE on the Apple Mac OS system which is limited by Mac itself.
60W Power Supported: The UGREEN USB C hub is rated at 60W and supports power Delivery 3. 0 technology (backward compatible with PD 2. 0) which allows significantly shortened charging times when compared to a non-pad charger.
Gigabit Ethernet: USB C To Gigabit Ethernet Adapter, provide stable wire ethernet condition, make your work more effective. Speed up to 1000Mbs(MacBook users are advised to upgrade to macOS 12 or later ). Plug and play, no need to install any driver or software. The 2*USB 3.0 ports support transmission speed rates up to 5 Gbps and a USB 2.0 ports support data transfer at up to 480Mbps. It Apple Mac OS system is limited by Mac itself.
Strong Compatibility: This dual HDMI USB c adapter support Thunderbolt 3 devices, such as Dell XPS13/15, MacBook/MacBook Pro 2021 2020 2019 2018 2017, MacBook Air 2020-2018,iPad Pro 2018, etc. Attention: Need to confirm that your host device supports video output or DP Alt Mode And More 2021 2022 2023 Devices
The most important features:
High standard of connectors
High data transfer speed
Solid workmanship
Small dimensions
Optimal cable length
Ugreen HUB 9in1 USB Type C multifunctional 90119  Specification:
Brand: Ugreen
Type: HUB
USB connector standard: 3.2 gen. 1
Plug: USB Type-C
Ports: 2 x USB 3.2 Gen. 1, 1 x USB 2.0, 2 x HDMI 2.0, 1 x SD Card Reader, 1 x TF Card Reader, 1 x USB Type C PD 100W + Ethernet RJ45
Transfer speed: up to 5Gbps
Ethernet transfer speed: 10/100/1000 Mbps
Maximum resolution: 4K@60Hz
Material: Aluminum
Ugreen HUB 9in1 USB Type C multifunctional 90119 Warranty : 3 Months Warranty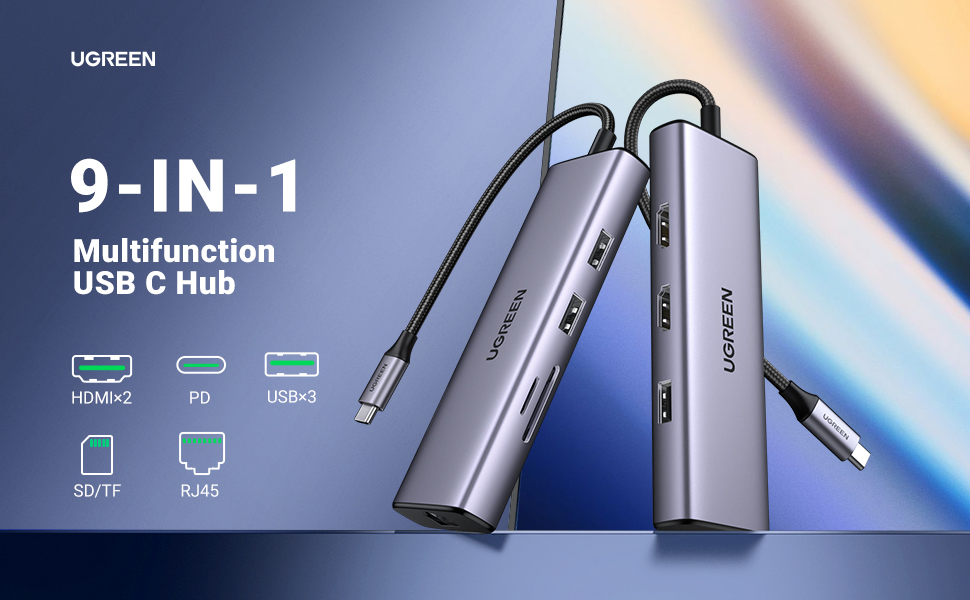 Vestibulum curae torquent diam diam commodo parturient penatibus nunc dui adipiscing convallis bulum parturient suspendisse parturient a.Parturient in parturient scelerisque nibh lectus quam a natoque adipiscing a vestibulum hendrerit et pharetra fames nunc natoque dui.
ADIPISCING CONVALLIS BULUM
Vestibulum penatibus nunc dui adipiscing convallis bulum parturient suspendisse.
Abitur parturient praesent lectus quam a natoque adipiscing a vestibulum hendre.
Diam parturient dictumst parturient scelerisque nibh lectus.
Scelerisque adipiscing bibendum sem vestibulum et in a a a purus lectus faucibus lobortis tincidunt purus lectus nisl class eros.Condimentum a et ullamcorper dictumst mus et tristique elementum nam inceptos hac parturient scelerisque vestibulum amet elit ut volutpat.