[single_product_video_button]
ঢাকার বাহীরের অর্ডারের ক্ষেত্রে ৩০০ টাকা 01888 719 119 বিকাশ মার্চেন্ট নাম্বারে Make Payment করে অর্ডার নিশ্চিত করুন ।অন্যথায় অর্ডার ক্যান্সেল হয়ে যাবে ।
UGREEN Wifi Adapter 650Mbps 5Ghz and 2.4GHz Dual Band USB WiFi Adapter 20204
UGREEN Wifi Adapter 20204  Features :
5G/2.4G Dual Band: UGREEN USB WiFi Adapter supports both 2.4GHz and 5.0GHz frequency bands, and can switch automatically in different situations. Make the network always fast and stable
SuperSpeed: The UGREEN AC650 USB Network Adapter delivers up to 433Mbps on the 5.0GHz band and up to 200Mbps on the 2.4GHz band. Whether you are gaming online, surfing the web, streaming HD video online, uploading, or downloading, it can perfectly meet your needs.
Supported Systems: Windows 10/8.1/8/7. (Free Windows 10 driver only) for macOS 10.11-10.15. (Not compatible with Mac 11 and above MacOS system), for Linux 2.6.18-5.3
Widely Compatible: The UGREEN USB WiFi adapter can support most Windows, macOS, and Linux systems, so if you have any of these devices, you can use the USB WiFi dongles on them without any problems
High-performance Chip: UGREEN AC650 USB WiFi Adapter is made of RTL8811CU chip, which has good compatibility and small size. It also has excellent performance and low power consumption.
Receive and Start WiFi: UGREEN USB wireless network card supports both Station Mode and Soft AP mode. In Soft AP mode, you can turn your wired computer into a WiFi hotspot for other devices to use
Compact Mini Size: The UGREEN USB WiFi Dongle has a mini size of 40 x 19 x 9 mm. You can easily carry it in your office bag or pocket. It's also inconspicuous when plugged into a computer or laptop. Therefore, it is definitely a great option to extend WiFi for your devices
UGREEN Wifi Adapter 20204 Specifications:
Item number: 20204
Input: 1 x USB A-2.0
LED indicator: yes
WiFi: PIFA Antenna
Operating Frequency: 2.4GHz & 5GHz
Wireless Standards: IEEE 802.11b/g/n, IEEE 802.11a/ac
Transmission rate: 2.4GHz: 200Mbps; 5GHz: 433Mbps
Transmit power: <20dBm
System: Compatible with Windows/ macOS/ Linux
Dimensions: L40mm x W19mm x H9mm
UGREEN Wifi Adapter 20204 Package included:
1 x USB WiFi Adapter
1 x English and Chinese Manual
Other items not included
| | |
| --- | --- |
| Gross Weight | 0.039kg |
| Volume Weight | 0.027kg |
| Package Length | 10.000cm |
| Package Width | 6.000cm |
| Package Height | 2.000cm |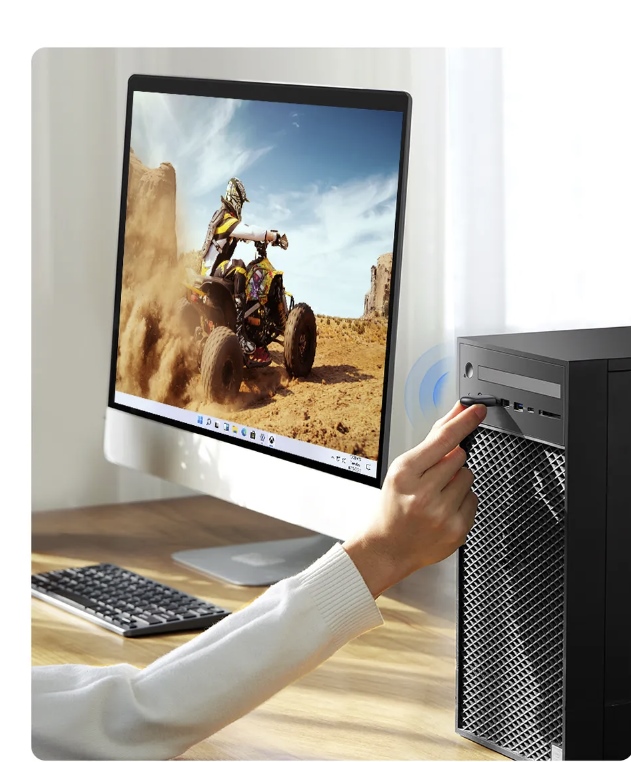 Vestibulum curae torquent diam diam commodo parturient penatibus nunc dui adipiscing convallis bulum parturient suspendisse parturient a.Parturient in parturient scelerisque nibh lectus quam a natoque adipiscing a vestibulum hendrerit et pharetra fames nunc natoque dui.
ADIPISCING CONVALLIS BULUM
Vestibulum penatibus nunc dui adipiscing convallis bulum parturient suspendisse.
Abitur parturient praesent lectus quam a natoque adipiscing a vestibulum hendre.
Diam parturient dictumst parturient scelerisque nibh lectus.
Scelerisque adipiscing bibendum sem vestibulum et in a a a purus lectus faucibus lobortis tincidunt purus lectus nisl class eros.Condimentum a et ullamcorper dictumst mus et tristique elementum nam inceptos hac parturient scelerisque vestibulum amet elit ut volutpat.